Setting the Goals
I built an AR-15 rifle, shown below the post title, several years ago and wanted to build a new custom rifle that was lighter in weight without busting the budget.  I also want the new rifle to be my dream rifle.  My original rifle was less than $1000.00 to build but weighs approximately 7 lbs.  The scope I have on it is another 2 lbs.  I am a facilitator for A Girl and A Gun, and have several ladies in my chapter that want a rifle.  They need their rifle to be lighter than a typical Mil-Spec rifle because of strength issues, and they watch their budgets like I do.  What I learn with this custom rifle build will benefit the ladies in my chapter and will help me guide them on their own quest in building a custom rifle in the future.
My goals for this rifle is to keep the cost around $1000, and the weight around 5 pounds without optic and magazines.  My first purchase helped me set this goal.  I have a maximum I can spend of $1200, but I would prefer not to.  After doing a little research,  I changed the original weight goal of keeping it less than 5 pounds.   Every thing I read said  if you want a less than 5 pound rifle, you have to put more money into the rifle than I had in my budget.  Most estimates on less than 5 lb rifles started about $2500.   My first rifle was less than $1000 but  it is mostly Mil-Spec parts.   The only things fancy on my first rifle is an Odin Works handguard that my husband and sons bought me for Christmas one year and a Geissele Trigger that I got on sale around Thanksgiving a couple years ago.
My first purchase for my custom rifle
I have had my eye on an F-1 Firearms skeletonized receiver set since I saw a friend's rifle last year.  The set I have been wanting is the UDR-15 3G Style 2 Universal Receiver Set.  While I was on the F-1 web page, I decided to see if I knew any of dealers that were local.  I found one of my favorite local shops on their list, Saddle Rock Armory.  I decided to call Saddle Rock and see if they had the receiver set I wanted.  I was told no but they said they had a F-1 Yard Sale Box leftover from Black Friday that was valued at $909.00, and it was on sale for $399.00.  I had no idea what this was so they sent me a link and I almost fell out of my chair.  The box had a skeletonized, receiver set, handguard, lower builder kit,  muzzle brake, and some extras.  I went to Saddle Rock Armory an hour later and bought the box with all those parts.  This is a huge savings to start my build.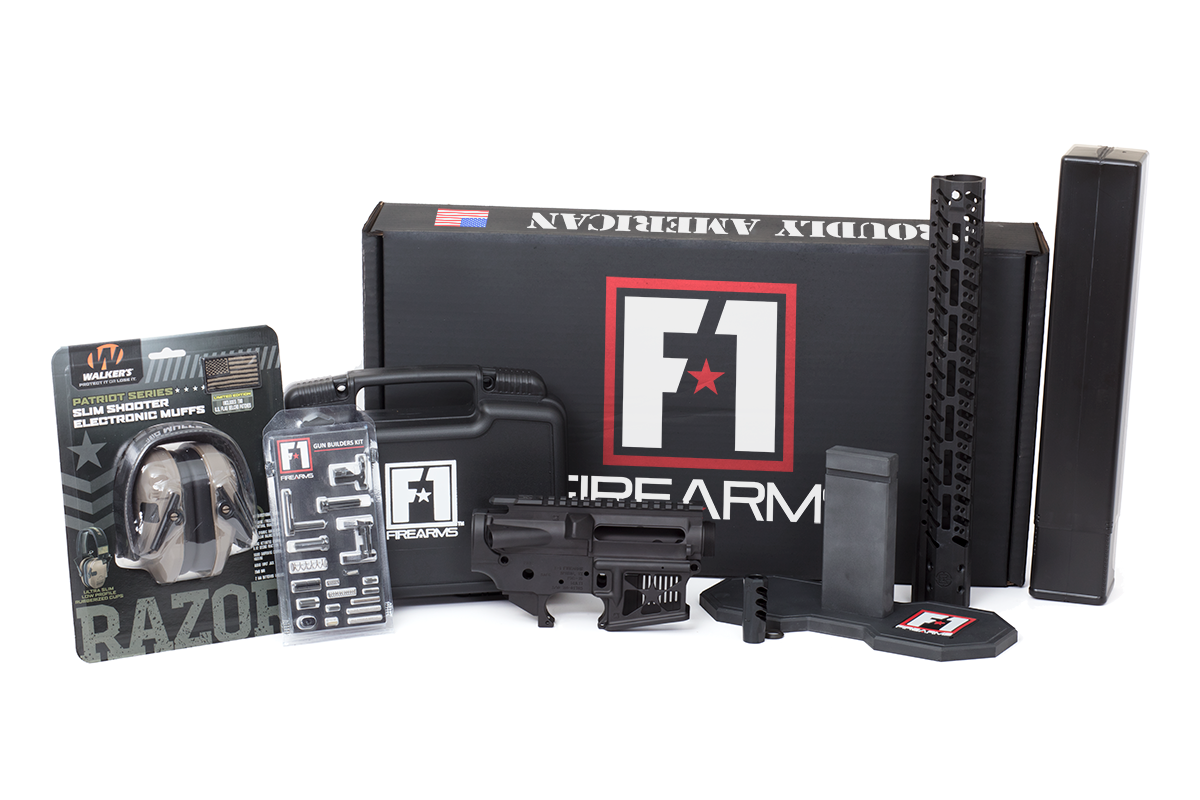 It wasn't the receiver set I wanted on my custom rifle but it was going to save me some money and keep me in budget.  The receiver set I originally wanted usually runs $550.  This upper in this yard sale box looked like a regular Mil-Spec but the lower was really cool with an American Flag cutout on one side of the magazine well and a cutout with a star on the other side.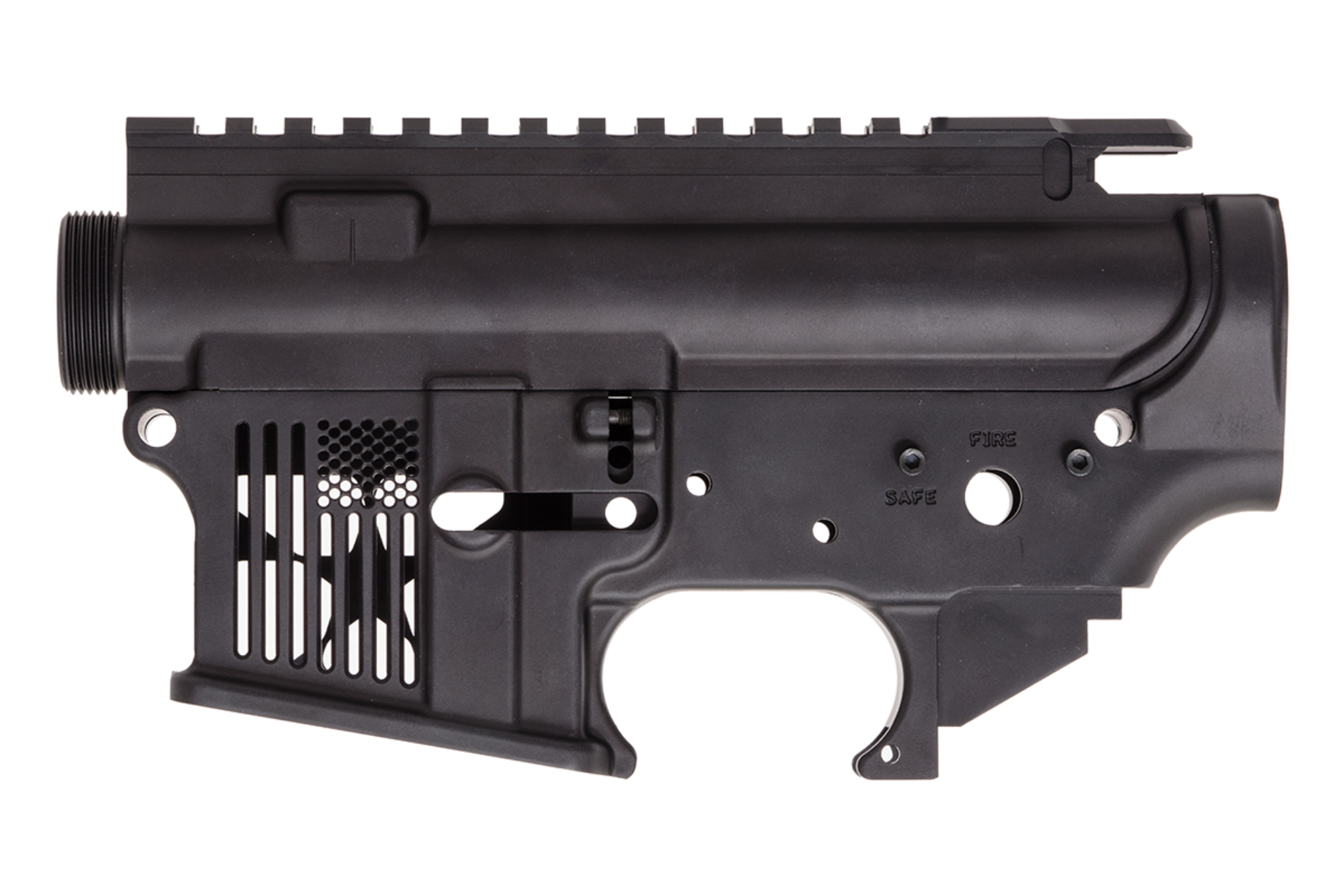 Deciding on the rest of the parts
The next thing I bought for the new rifle was the Bolt Carrier Group (BCG).   F-1 Firearms had my dream BCG but I had to think about the budget.  My dream BCG is a Rose Gold Titanium Nitride coated, meaning it is very shiny and smooth.   I started searching for a light weight, fully assembled BCG that was reliable.   There are some BCGs out there made out of the aluminum, the same type metal  that receivers are made of.   Aluminum BCGSs are not that reliable because the metal gets beat up and needs to be replaced every couple thousand rounds.  The cheapest reliable one I found was a black finished one that was $250.  About the same time, I ran across Cryptic Coatings.  Cryptic Coatings had the rose gold color I originally wanted and they offer a blemished version for $212.50.  The only problem was it is not light weight so I had to decide if I was willing to add that 3 oz for a little savings and get what I really wanted.  I ended up buying the blemished one that was a little heavier.   It is beautiful.  I still have not found where it is blemished.
I still have the mil-spec trigger that I originally had on my first rifle before adding the Geissele trigger.    I decided to put it back on my first rifle and add the Geissele trigger to this new build since this rifle is my dream rifle.  That saves me a couple hundred dollars, keeping me on budget.   To save a few more bucks,  I was also looking on Ebay and for sales.   I found an Odin Works 16.1″ 223 Wylde Ultralite barrel ($256.50) on sale from an online store.   The barrel shoots both 223 and 5.56 and came with a tunable gas block for that price.  I found an original ERGO grip ($18.99) and the bottom of my trigger guard ($10.99) on Ebay.   At this point,  all I had left to buy was gas tube, charging handle,  and minimalist stock kit.    I've had good experiences over the years with Odin Works parts and had already found the barrel and gas block.  I decided that the remaining parts would be Odin Works.    Even though I was trying to find things on sale, I was starting to get impatient.   I ended up just going to Odin Works and buying the rest of the items ($126).
Conclusion
I now have all the parts for my custom rifle  I want some parts painted so they are off to my gunsmith at Hammer Down Sports.  Jason, the owner, also Cerakotes guns and gun parts.   He will also supervise the build once the parts are painted.
My total cost was $1023.98.   If things hadn't been on sale, my price tag would of been $1687.98 for the same parts.  If I had continued to be patient on the last few things, I could of possibly paid less than $1000 but I was pretty proud of my choices.
May 2018 – My rifle parts have been painted,  I built it ( supervised by my gunsmith),  and the weight was exactly 5 pounds 8 ozs before optics and extras.  I ended up changing out a couple things and painting the rifle.  I am really excited about the final build.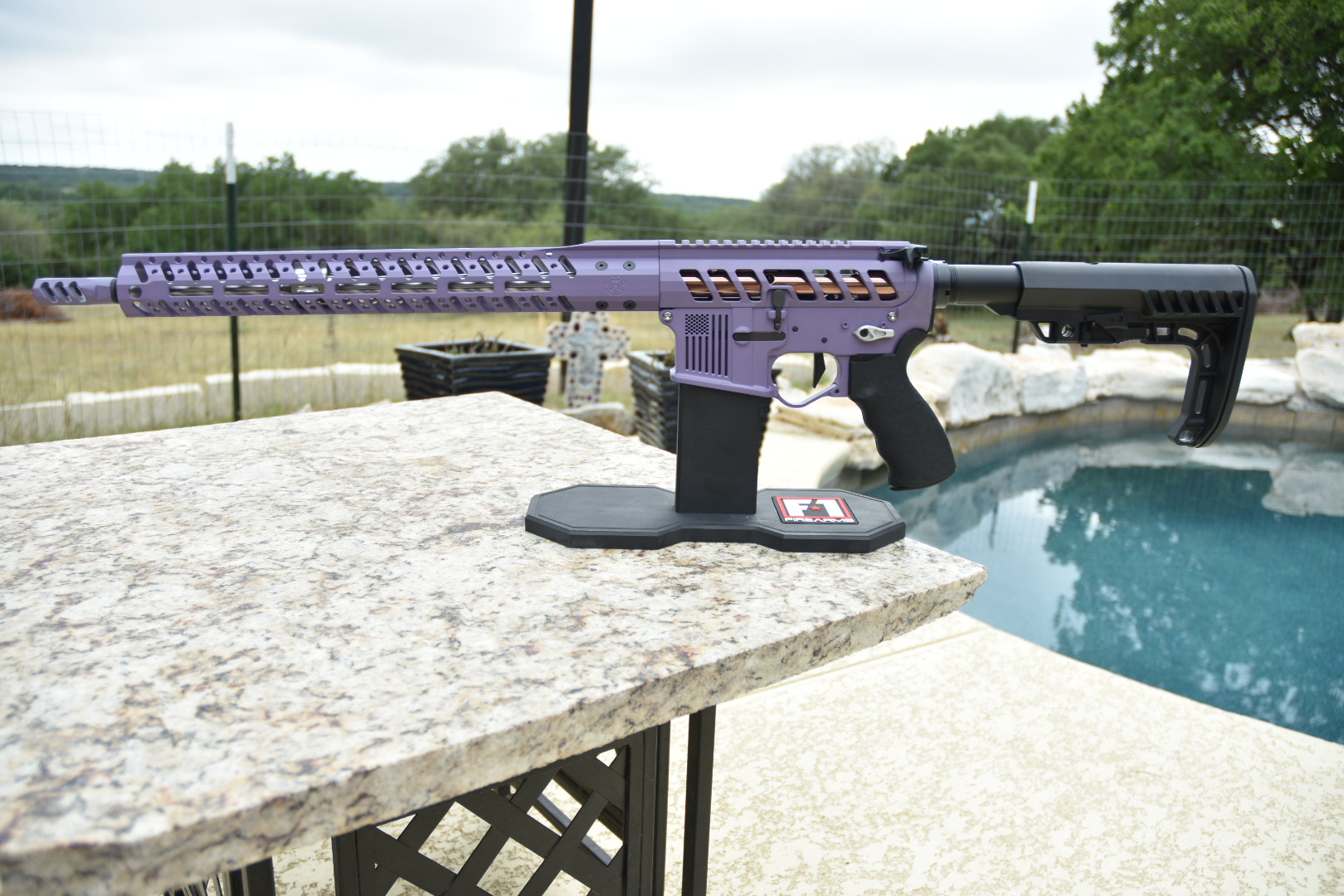 Thank you to Jason Armstrong of Hammer Down Sports for the paint and supervision of the build.